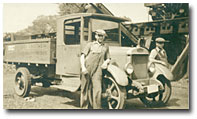 Lippincott's Supply was established in 1901 at "Washington Street and the Railroad", now 63 Washington St., in Mount Holly. The founder, Stacy B. Lippincott, sold coal and building supplies such as slate, terra cotta, and quicklime. Following WWII, the coal business began to be supplanted by heating oil, and over the years the building supply business evolved to meet the changing demands of local builders and homeowners. For four generations of family ownership, the core of the company's services has been natural stone, brick and other masonry products, drainage materials, and sand and gravel.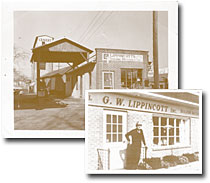 Traces of the old survive at the 1.75 acre location in the heart of downtown Mt. Holly. Remnants of train trestles at two creek crossings mark the old rail siding that once served Lippincott's as well as other businesses in town. Concrete pylons still in use as sand and gravel bins were built at the turn of the century to allow rail cars to roll across the top and dump Pea, Chestnut, and Stove size coal. Owner Joe Jones recalls sitting at grandfather G.W. Lippincott's desk as a boy and feeling the building shake as the train went by the window, almost close enough to touch.
Joe's parents, Norman Jones and Marion Lippincott Jones, ran the business in the seventies with the help of associate Charles M. Cooper, who mentored Joe when he returned after college. New services – Tool Rentals, our On-Site, Metered Concrete Mixer, custom stone cutting – have been added in recent years to help with small and medium size projects. Today the company's fifteen employees and fleet of eight trucks work six days a week to serve the needs of builders, landscapers, and homeowners throughout Burlington County.